As part of our 40th anniversary celebrations, we have recorded a CD. So if you have ever wondered what Shrewsbury Morris sounds like, now is your chance to find out!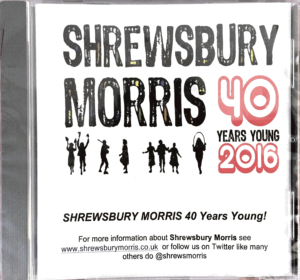 The CD is professionally recorded and mastered, and features 19 tracks. Some of these are live recordings of us dancing, some are studio versions of traditional tunes that we dance to. You get a glimpse of our Christmas Ceilidh and tunes from right through our history, to the two dances we wrote to celebrate our 40th year.
Here's a clip of what you can expect!
The CDs are £10 inc P&P – drop us a line to bev.langton@talk21.com and we'll pop one in the post to you.