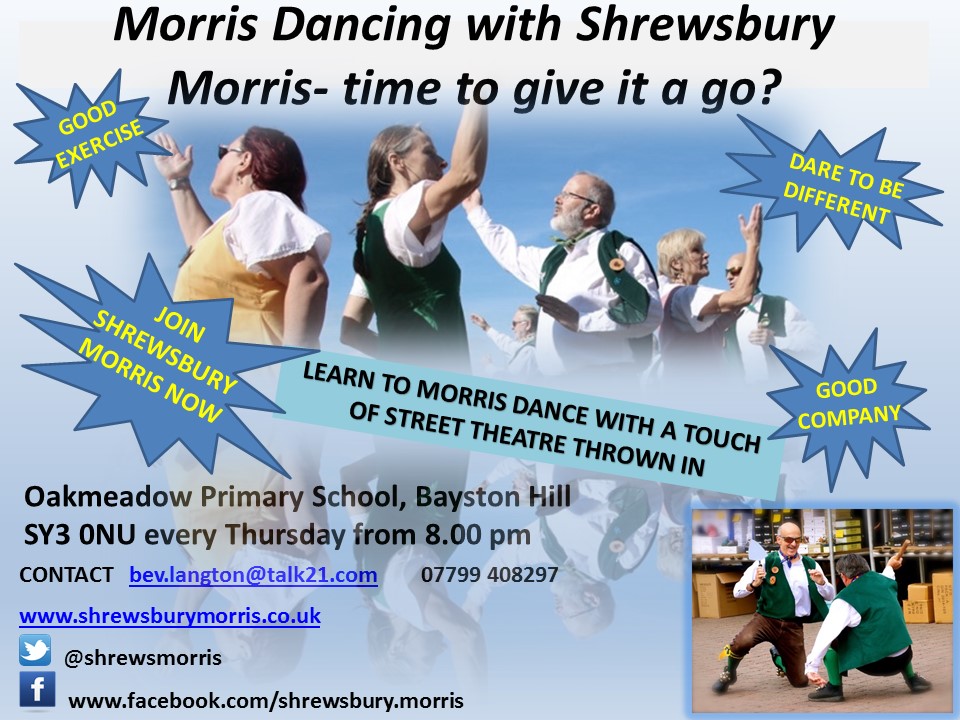 SHREWSBURY MORRIS FAQ's
Q:    Where do you practice?
A:       Oakmeadow CE Primary School, Longmeadow Road, Bayston Hill SY3 0NU.
Q:    What time do evenings run?
A:       The evening will start at 8.00pm and finish at 9.45pm.
Q:    Is there parking?
A:       There is a large car-park. Please use the back entrance into the school. There will be signs to guide you.
Q:    What should I wear if I want to come along?
A:       Trainers and comfortable clothing suitable for exercise eg T-shirts, leggings, track suits, shorts.
Q:    What should I bring with me?
A:       A water bottle would be sensible. All other equipment etc will be provided.
For those who decide they would like to have a go – Thursday evenings at Oakmeadow School are our weekly practice sessions. People are welcome to come along for a few weeks and find out whether Shrewsbury Morris is for them or not. Apart from our weekly practice sessions we do of course regularly perform in public. We do not take fees or ask for regular commitment until people are ready to dance out in public.
Shrewsbury Morris are comprised of three team: Shrewsbury Bull & Pump Morris Men, The Shrewsbury Lasses and Shrewsbury Clog. We mainly dance as single sex teams. Membership of Shrewsbury Clog is via Shrewsbury Morris. All Cloggers are first and foremost Morris Dancers!
Shrewsbury Morris also encourage all members to play musical instruments/percussion – we do not usually accept non-dancing members as musicians.
For any further information please contact the leaders of Shrewsbury Morris:
Bev Langton  bev.langton@talk21.com      07799 408297 
Ray Langton ray.langton@talk21.com        07747 863284
Or visit our website: www.shrewsburymorris.co.uk
Or check out our social media sites:
www.facebook.com/shrewsbury.morris
Twitter @shrewsmorris
Thursday night is practice night at Oak Meadow CE School, Long Meadow, Bayston Hill, Shrewsbury SY3 0NU
Clog from 7.15 – 8.00pm
Morris from 8.00 – 10.00
If you are keen to join us then please contact our Squires – Ray & Bev Langton on 07799 408297 to find out more, or come and chat with us on Twitter or Facebook and we'll tell you all about it!