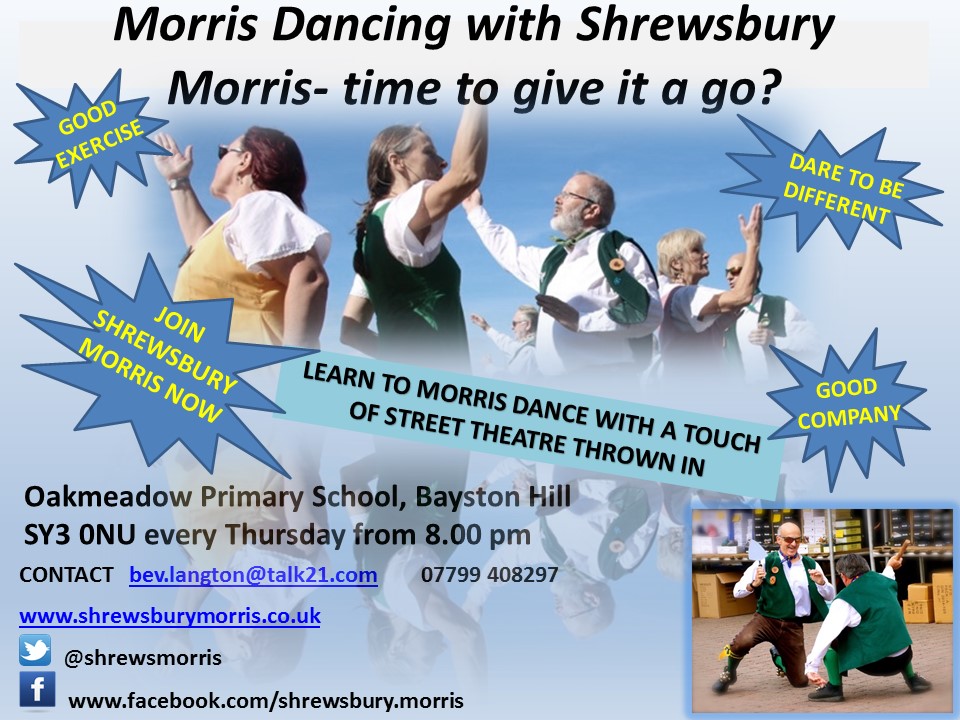 If you are interested in taking up Morris dancing, or would like to come and have a look at us first, why not come along to one of our practice evenings?
Thursday night is practice night at Oak Meadow CE School, Long Meadow, Bayston Hill, Shrewsbury SY3 0NU
Clog from 7.15 – 8.00pm
Morris from 8.00 – 10.00
Following the success of our Open Evenings in Autumn 2017 Shrewsbury Morris have been delighted to welcome more newcomers to the team.  While Shrewsbury Bull & Pump Morris Men are still able to take new recruits, for the time being entry to The Shrewsbury Lasses is now by negotiation.  If you are keen to join us then please contact our Squires – Ray & Bev Langton on 07799 408297 to find out more, or come and chat with us on Twitter or Facebook and we'll tell you all about it!
var _gaq = _gaq || [];
_gaq.push(['_setAccount', 'UA-41176556-1']);
_gaq.push(['_trackPageview']);
(function() {
var ga = document.createElement('script'); ga.type = 'text/javascript'; ga.async = true;
ga.src = ('https:' == document.location.protocol ? 'https://ssl' : 'http://www') + '.google-analytics.com/ga.js';
var s = document.getElementsByTagName('script')[0]; s.parentNode.insertBefore(ga, s);
})();