An Open Morris letter to Shrewsbury and all visiting Morris sides
Sat 28th Sep 2013
Just a perfect day / met The Mayor in the Square / and then later, when we're all there / we just danced
Just a perfect day / Morris sides quite a few / schools there for us and you / they all danced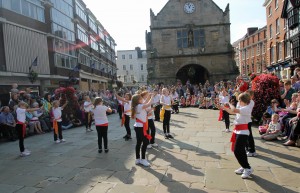 Oh it was a perfect day
We're glad we spent it with you
Oh such a perfect day
You won't hear me banging on
You won't hear me banging on…..any more
Just a perfect day / the weather left us alone / no-one had a chance to moan / it was fun!
Just a perfect day / wouldn't have been anywhere else / we hope you enjoyed yourselves / you were great!
Oh it was a perfect day
We're glad we spent it with you
Oh such a perfect day
You won't hear me banging on
You won't hear me banging on…..any more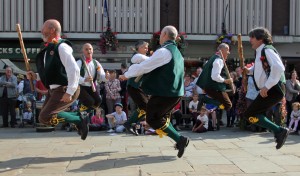 We're hoping to reap just what we sowed
……by enough people being inspired by the last fabulous weekend of Morris Dancing in Shrewsbury to come along to our Try Outs/Open Evenings at Sundorne School, from 8pm on both Thursday 10th and 17th October. It's a very informal, fun evening where you get a chance to meet us, chat to us, have a drink and some nibbles with us (there's cake!!), see what we do, look at our rich history and tradition, see us in action and generally have a good time.
Who knows, you might even feel so good about it that you want to join us! We are always looking for new members. So, men and women of hereabouts, if you want to have a peek into the wonderful world of Morris and find out what's so great about it and why we love doing it, now you know what to do.
Pssst…….I think there are people coming already so you'll have company……
Hope to see lots of you there.
Check out our website www.shrewsburymorris.co.uk for more information and find links there to our huge Twitter account @shrewsmorris, our FB page and our Flickr page, bursting with photos of last weekend and of….well, us really….
It's always fun dancing with Shrewsbury Morris!
Morris On
Graydon