Monthly Archives:
May 2022
Glorious sunshine greeted us on Saturday 14th May 2022 and it was, secretly, quite nice to be dancing a little closer to home, as we made our way to the Annscroft Garden Party, being held just outside Shrewsbury. Despite some false alarms, some accidental parking in the wrong fields and an eventual warm walk from the designated parking area, we were made most welcome by the organisers at their lovely house.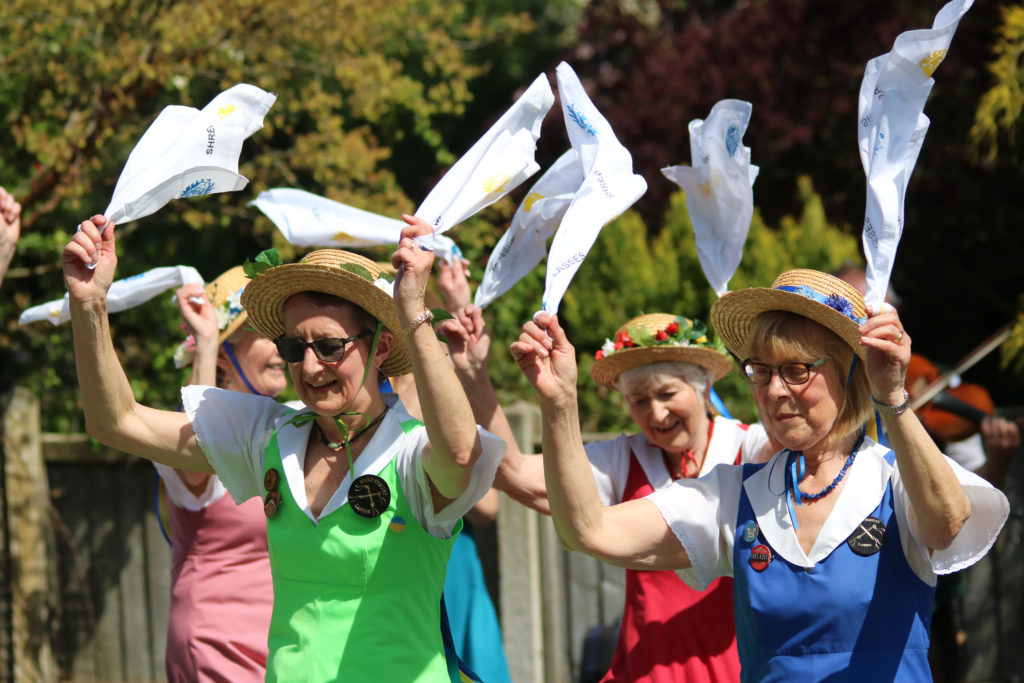 Fortunately our two dancing spots were short in the very hot weather, which allowed for some rehydration, chat and some lovely time spent looking round the stalls and the beautiful garden of our host.
All proceeds were going to Christian Aid and we were delighted, along with an enthusiastic ukulele band and lots of lovely visitors, to have helped in the raising of a very solid £1,282.26p.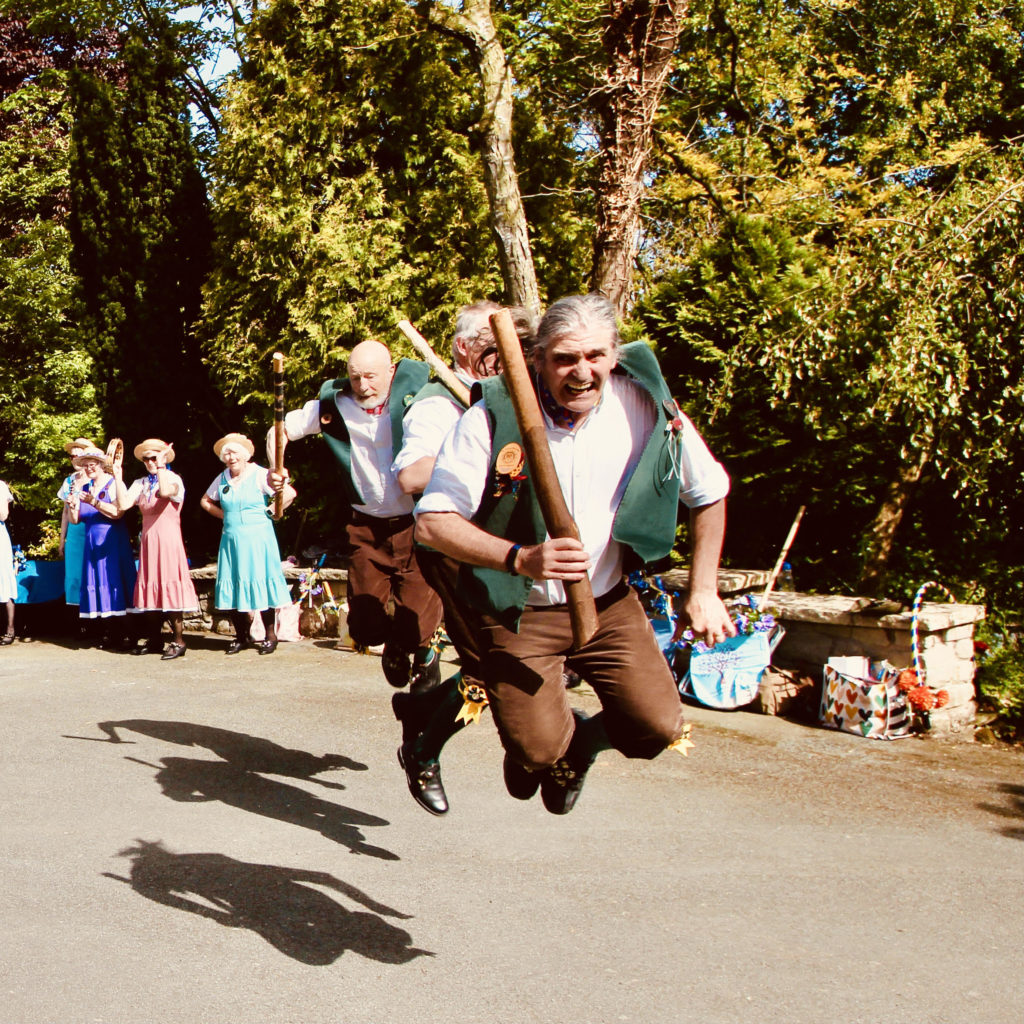 A kind, appreciative audience and a slightly sloping space made for an interesting and happy afternoon, both teams relaxed and dancing well. Bull & Pump sang again (that's taken a while!) and the Lasses and the band (to have lots of musicians is always a great sight and sound) were well and truly on form. A relaxed, fun and happy day dancing in the May sunshine for a good cause…….what could be better?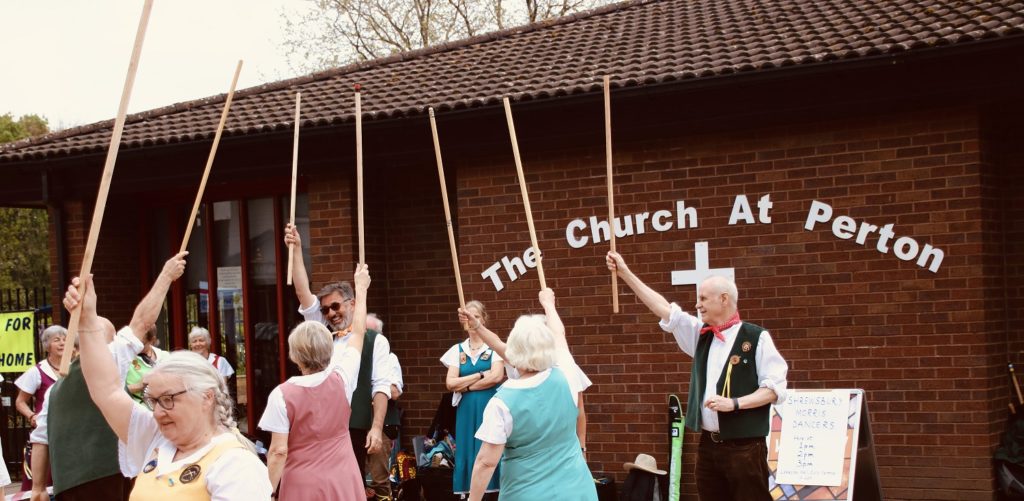 Although we were all in bed on May Day whilst some brave souls were dancing in the early morning cold and dew, Shrewsbury Morris saw May in with an afternoon at Perton Carnival on Monday the 2nd.

Slightly left of Wolverhampton, Perton is a village with a real community feel and that was reflected in the large and friendly crowd as we arrived. The Wolverhampton Wanderers fans amongst us (well, Graydon and Ed) felt at home with all the gold shirts around and our team started with a large, enthusiastic and curious audience watching and who seemed to really enjoy our first 30 minute spot (of three).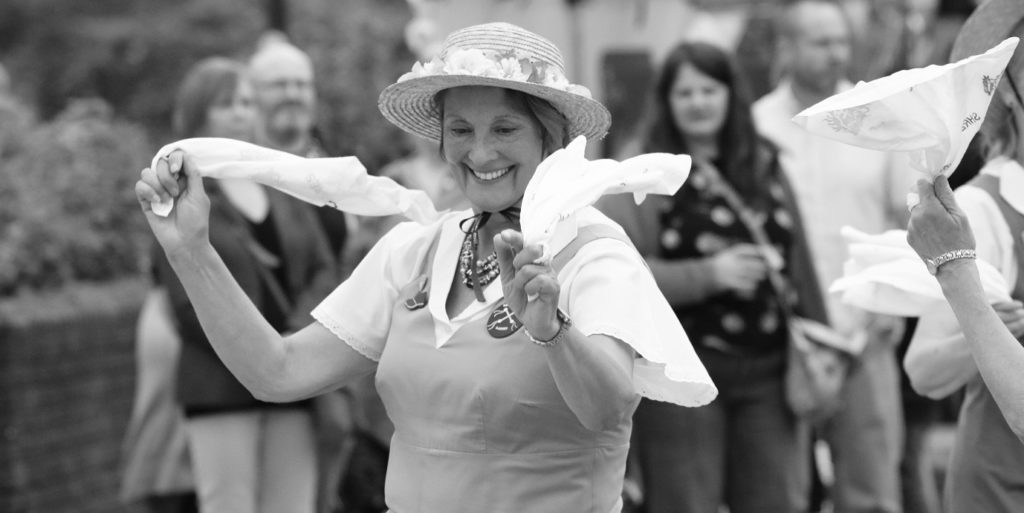 We had taken another pretty big team with us and everyone had a good outing in terms of numbers of dances, our programme being another mixture of mixed dances and the usual specialised ones split between the Shrewsbury Lasses, Shrewsbury Clog and Bull and Pump Morris Men.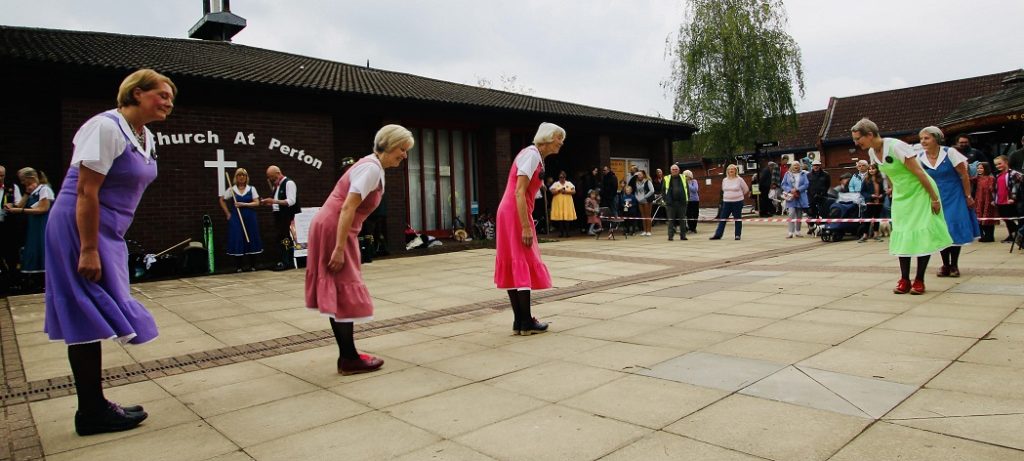 We were well looked after in our allocated spot and, although the crowd ebbed and flowed a good number stayed with us throughout the afternoon which was nice.

We were also able to please a lovely lady called Kitty who was delighted by our dancing and who asked if she could have a photo of our melodeon players. An old friend of hers (Eric, who is now 92) was a melodeon player himself. Ray, Margaret and Barbara kindly obliged, which really seemed to make her day.  Shrewsbury Morris at your service!

The cobwebs are being shaken loose from our long Covid and winter break and we look forward to sunshine and fair weather now that we're getting further into our 2022 Dance Programme.