Saturday July 7th, The Square, Shrewsbury
The Shrewsbury Morris Dancers are again hosting one of their special free celebratory events in their home-town on Saturday 7th July.
The Square in Shrewsbury will see continuous entertainment from 10.00am to 4.00pm with a host of diverse performances to delight families, local residents and those from further afield.
Join us and watch the colourful dances and wonderful musicians from The Shrewsbury Lasses, The Shrewsbury Bull and Pump Morris Men and the toe-tapping intricacies of The Shrewsbury Cloggers.  There will however, also be much more than this including the amazing Shropshire Ukulele Massive, the beautiful harmonies and voices of The Halfway House Male Voice Choir and the youthful talent of the Shropshire Youth Folk Ensemble.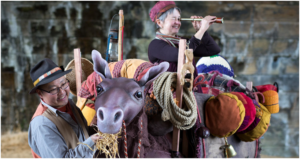 Along with the music and dancing, and from much further afield, Thingumajig Street Theatre will be presenting their intriguing Kit and Caboodle Show featuring a pack mule with stories, puppets and songs of remarkable journeys by people past and present.
A wonderful day of varied entertainment – and it's all free!