Since our last blog I'm ashamed to say that we've had three more fabulous dance-outs – so for the sake of brevity I am encapsulating all of the three into one blog……I know, terribly lazy but needs must when the devil stamps on your bells….or something like that….
First of the three was the really lovely Bayston Hill WW1 Commemoration Fayre on Sat 3rd May (Oh no was it THAT long ago?). A hot day and one that saw two brand new ladies (Sue and Beryl) make their very successful debuts in the ranks of the Shrewsbury Lasses. Brilliant to see our new dancers (men and women) doing so well so quickly. Our two performances on the school playground went well and some keen children danced alongside us imitating our moves….(sign them up quick!!) This was a nice event to do, especially given the context of the day and was clearly well supported by the local community. A good day made perfect by the fact that we also met…..Magic Kev!!….my life is complete:)))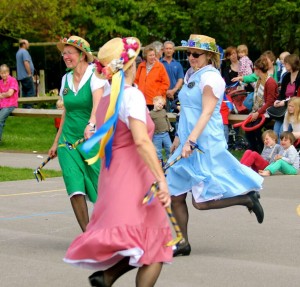 After a break on the Sunday we were (like Davey….OK, maybe too early) on the road again on Bank Holiday Monday, this time to the amazing National Trust property at Dudmaston Hall, near Bridgnorth. The lovely Nikki Hook had been organising this at the Dudmaston end for a while and being a bit of a Twitter buddy of ours we were looking forward to meeting her at last. We were firstly impressed by the fact that we had our own hut, complete with drink making facilities (no, only tea and coffee sadly!!), storage and rest area……don't always get THAT!! The place is beautiful and we were dancing in a walled orchard where all sorts of activities were taking place around us. The day started well when Ray completed his road sweeping duties to clear our dance area and Bev then asked us all to line up…..which of course we did (you don't argue with Bev). She then asked us…..no, actually ORDERED us to cross the dance area clearing every last stone. So, if any local police forces require any finger tip searches of crime scenes completed, who you gonna call?…..Shrewsbury Morris!
The day itself was absolutely great, we had three dance spots, huge crowds at each spot (all very appreciative), the team danced and played their little socks off, we managed to get Nikki involved in a Steeple Claydon (she's a great sport), the men danced a ten man Upton and Ralph's Reel (unheard of for years) and Ray and Bev led a huge Farandole (it's a procession) at the end which culminated in the raising of the decorated May Tree. A lovely day – and we're going back in October….get your finger tip searching rubber gloves on folks! :))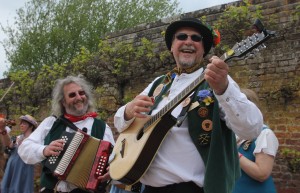 The third of our recent dance outs (Sunday 11th May) found us rather more local to Shrewsbury, in the village of Minsterley at The Rea Valley Produce Market, a super local event held in one of the largest village halls in the country. We were able to catch up with a few of the stall holders who were social media friends and the dancing, in a reasonably tight space was really good (I think small spaces are better) – in particular the lines formed by both the women and the men were really impressive, and I have the photographic evidence to prove it….Bev! (so the gruelling training pays off then?). In between our three dance spots the local stalls, in particular for some reason the food stalls…..took a bit of a pasting from the team and I think the Scotch Egg lady may have had to re-stock completely!
Three lovely dance-outs, new dancers 'blooded", big crowds (in fact a record crowd day at Dudmaston we were told) and all in very different but very nice local areas. Good times!!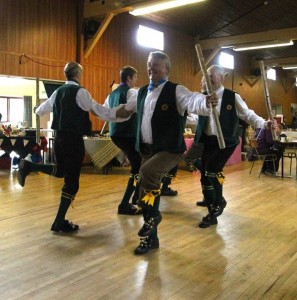 Next stop – Aston on Clun on Sunday 25th May for Arbor Day celebrations…….I promise the next blog will be on time…….or I'm not a police finger tip searcher……..oh wait! :)))