Since we last blogged a great deal has happened in Shrewsbury Morris World so by way of an update……..since the end of May we've danced at Chester Folk Festival (scene of the great rainbow neckerchief tussle), received, used and handed over the Shrewsbury Festivals Baton and organised and held an amazing, highly popular free music and dance event in town called Beat and Bells.
This saw Pateley Longsword Morris, us (naturally), the awesomely thunderous Kayobi Taiko and the stupendous Zulu Tradition who wowed the crowds that gathered in Shrewsbury Square on a sunny June day….a day to live long in the memory!
Prior to the event we had also raised enough money through a Crowdfunding project (we believe we're the first Morris side ever to achieve this) to allow Zulu Tradition to visit six local schools in the week leading up to Beat and Bells and impart their own particular brand of education, fun, song and dance to completely captivated children of all ages. The photos of young beaming faces joining joyfully in all the activities were proof enough that the idea was a complete success.

The sunshine and heat of Sat June 6th was replaced by the cold and rain of Sat June 13th when we went to dance in Wellington for the annual Summer Fayre. This delightful event is a bit of a favourite of ours and we were really looking forward to it. Sadly the rain curtailed our dance programme but both our teams put in a stoic spot before the heavens really opened and the whole event was moved indoors. Our cloggers did manage a dance inside a packed school room which went down very well with the crafters there!
Two weeks later we were back dancing at Holly Farm Nurseries near Prees for their open day. We weaved in and out of the vintage cars, plants and flowerpots to put on a pretty good display and the team all seemed to have great fun on another rainy day….but we danced under a lovely canopy so that was alright then!

July started with a social event…an unwedding….as two of our super team members, Cathy and John got unmarried at a very lovely unwedding reception…..a fab day where the team could enjoy being together and saying well done to the happy newly unweds! Needless to say there was a Lasses dance in there which Cathy had to join in with and an appearance by a secretive and previously unknown "boy" band who we believe will slip just as quickly back to well deserved obscurity.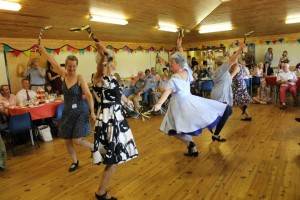 The village of Llanrhaedr Ym Mochnant kindly invited us to process and dance at their very popular carnival on 11th July and a week later we found ourselves in Buxton as guests of the very hyphenated but extremely well organised and kind Chapel-en-le-Frith Morrismen who were celebrating a birthday by hosting 16 Morris sides from around the country for a Day of Dance. The weather was brilliant, the dance venues spectacular, the organisation impeccable and it was really nice to meet and dance with friends old and new.

Just before we broke up for our traditional August mini-break, local torn paper collage artist Lyn Evans came to give us a preview of her latest commission which is a beautiful collage of Shrewsbury Square. Known to only a few of us at the time she had very kindly included Shrewsbury Morris in her picture. Not just included but centre stage too! We are extremely grateful to her for "immortalising" us in such a beautiful way and for being so generous as to give each team member some gifts of cards and vouchers to buy full size prints. A great way to end the first part of our dance season.
Although August is a quiet month dance-wise for us, many of the team have been and are currently very busy helping and working at other folk festivals, principally Sidmouth and Towersey where a great deal of hard work and organisation is helping those two festivals enormously.
Whilst they're doing that the rest of us move on to our own folk festival in Shrewsbury where we'll be dancing on Sat 29th Aug at the following places:
Festival Site Garden Stage – 9:45-10:30
St Mary's Church – 11:15-12:00
St Alkmond's Church – 12:15-13:00
Procession through town – 13:13-14:00
Shrewsbury Square – 14:45-15:30
St Alkmond's Church – 15:45-16:30
We are looking forward to it immensely.
Finally, practice resumes on Thursday 3rd September at Sundorne School, Shrewsbury from 8pm……..and we're recruiting, especially men! So, if you're even vaguely fit, like fun, feel like having a go at this wonderful thing that we all love and don't mind committing some of your free time then why not just come to one of our practices, meet the team and see what you think? We'll teach you everything so no previous dance experience is necessary.
You never know…….we could change your life for you…..:)))))