"Never ask for directions in Wales Baldrick" Blackadder famously once advised………
Well, we had to at one stage on our way to Llandrindod Wells Carnival on Sat 5th July and the worse thing that happened to us was getting stuck behind a lovely old red Massey Ferguson tractor as we trundled sedately into "Dod" as it's known locally. Of course we might have called it something else if we'd been late!
Shrewsbury Morris slowly, piece by delicate piece massed in the lovely old mid-Wales spa town around mid-morning and made our way to Temple Park to join in with, as it turned out a really stonking carnival! Well organised, superbly well attended and with masses of events going on it was one of the best I've seen (and I come from Somerset so I've seen more than a few!!).
Both our dance spots were in front of the very picturesque bandstand where a nice space had been cleared. Bull and Pump were first up with their usual Upton and the Shrewsbury Lasses flourished their "Flourish" with a real….flourish for their opener. As we ran through our repertoire the sun got hotter, the crowds got bigger and our superb musicians just got better and better.
By lunchtime we'd finished our first stand and decided to use the long break between spots to explore the gorgeous Rock Park and Pump House Hotel, a delightful old place where visitors would once "take the waters". We followed their example but also added a pretty big full cream tea to our refreshment!! Morris Dancers eh?…..you can't take 'em anywhere! We also had a lovely relaxed 30mins of unplanned dancing in a super area.
Our second spot, later in the afternoon was after we had joined in with the carnival procession which wound its way slowly round the town. This was spectacular with lots of elaborately adorned floats, wonderful costumes, happy, smiling people and looking like it was raising lots of money.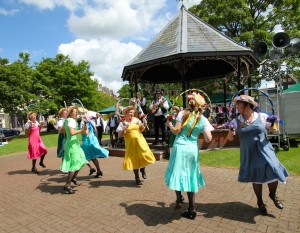 We played and walked as a band, playing our stock marching tunes and our Pipekit (one of our sponsors) drum got a good airing at last, keeping good time, thankfully as I was playing it!
The second dance spot was a cracker, the bandstand now surrounded by a huge crowd who stayed to watch us in the late afternoon sunshine.
All in all a really excellent day….and nothing to wash out of our hair at all….:))))