In a bold festive move, in no way influenced by any Christmas Spirit, we have ventured onto Soundcloud!
We would love you to listen to our Ceilidh band playing I Saw Three Ships from our traditional Christmas Ceilidh on December 5th. This wonderful event pulls crowds in from miles around, with people coming back year after year and also featuring the famous running raffle…
We always have a theme for for the ceilidh, this year's was Magic. Most of the side and a fair amount of the audience turn up in fancy dress – this year we had Gandalf, Maleficent and Freddie Mercury (well, it is a kind of magic…)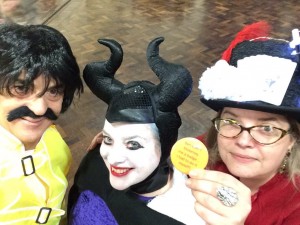 On the track, you can hear the dancers having a great time to the accomplished calling of Bev Langton.
We also always do a 'spot' in the interval. This year, we surprised the audience with a christmas medley from the Shrewsbury Morris Spoonchestra!