A glance out of the window at around 6am on the morning of Beat and Bells 2022 did not bode well for the day ahead – far more moisture evident than required! However, as we all know, the sun always shines on Shrewsbury Morris and we were not to be disappointed.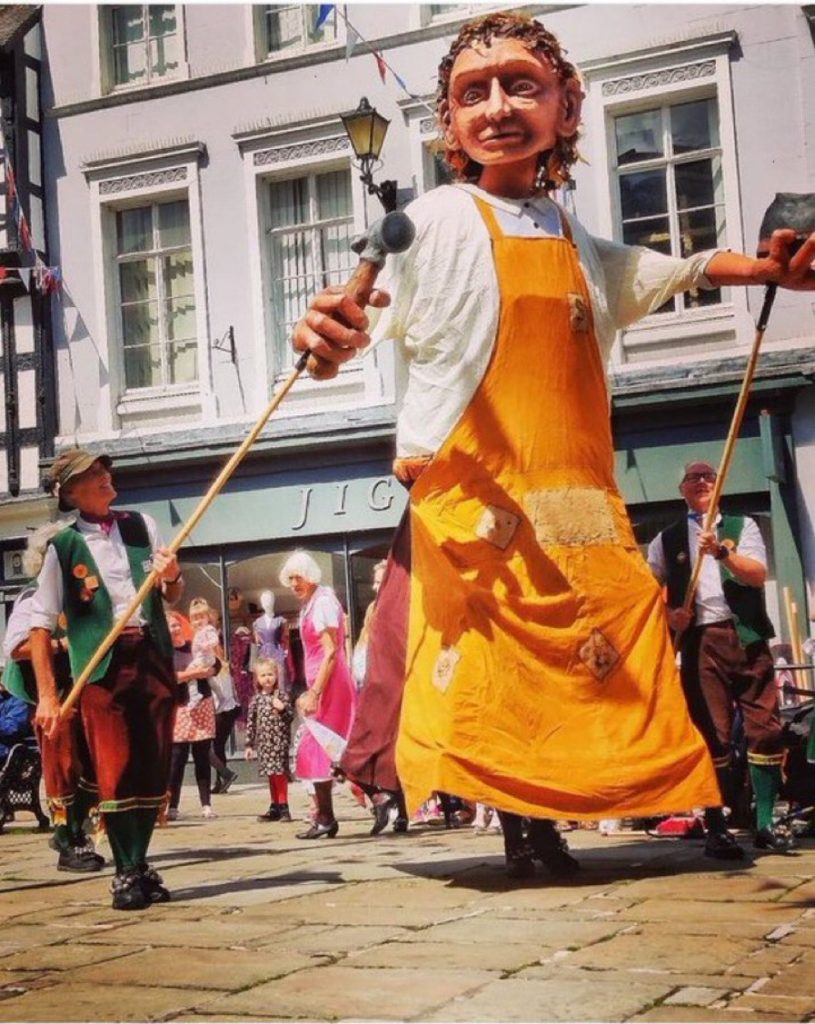 The festivities commenced at 10am with the parade of Septimus, the Giant Shrewsbury Cobbler with his flagbearers and attendants, accompanied by the massed ranks of Shrewsbury Morris performing his welcome dance, much to the delight of the gathering audience.
There followed the first of several wonderfully raucous and interactive demonstrations of Border Morris Dancing by our friends from Flintshire in North Wales, Clerical Error Morris Dancers (Y Clerigwyr). Their stunning costumes and vociferous dancing style certainly attracted much attention throughout the day.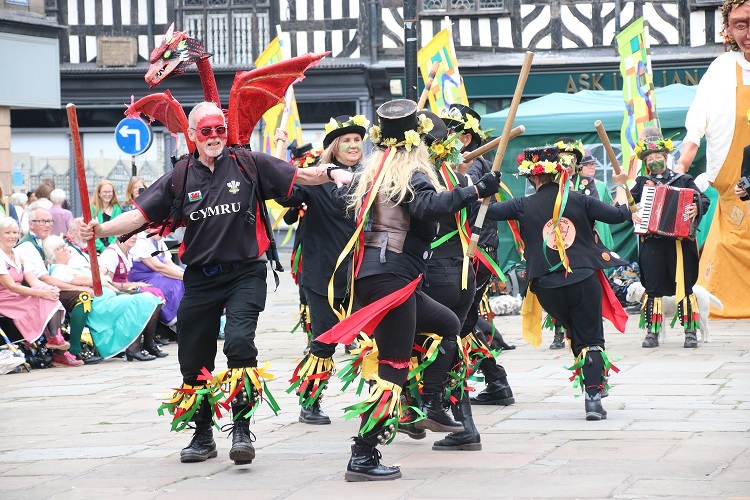 The programme continued with dancing spots featuring Shrewsbury Clog, Shrewsbury Lasses and Shrewsbury Bull & Pump Morris Dancers, demonstrating the broad variety of their respective repertoires, with the addition of the suite of mixed 'socially distanced dances' specially created during the Covid lockdown periods.
We were also delighted to welcome Thingumajig Theatre from Todmorden, West Yorkshire, who appealed to children and grown-ups alike with their interactive Dodos, Charles and Amelia, and who popped up throughout the day to see what was going on.
It is fair to state that all who took part thoroughly enjoyed themselves and contributed to a fabulously memorable day – and thanks once again to the weather gods for smiling on us. May we also take this opportunity to thank all those who stopped by to watch and support us during the day and also for the funds generously popped into our collecting tins? See you all again next year!